Health Communication Component of the USAID-funded Maternal and Child Health Program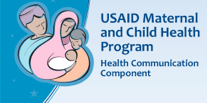 Center for Communication Programs Pakistan, along with Johns Hopkins Center for Communication Programs as lead, Mercy Corps and Rural Support Programmes Network, is implementing the Health Communication Component (HCC) in focus districts of Sindh, Pakistan. HCC is a six-year, $24.5 million Component funded by the U.S. Agency for International Development (USAID) and is part of the Maternal and Child Health Program.
The Component envisions a Pakistan where individuals, families and communities advocate for their own health, practice positive health behaviors and engage with a responsive health care system. HCC will address family planning and maternal and child health, such as timely antenatal care attendance, in the Sindh province in Pakistan. The Component is working to create enabling environments for change, bolster social networks and empower community members with a sense of self-efficacy. Activities include social and behavior change communication (SBCC) interventions, such as designing and developing an aspirational health communication campaign and an effective package of SBCC interventions at the individual and household levels; advocating for more investment in and coordination of behavioral programming; and, strengthening the capacity of local agencies to implement SBCC activities.
Duration: 6 Years
Coverage: 15 focus districts of Sindh, Pakistan
Donor: United States Agency for International Development
Focus: Maternal and Child Health