An intensive learning opportunity for aspiring journalists and reporters from print and broadcast media in Pakistan
Center for Communication Programs Pakistan, in collaboration with Johns Hopkins Center for Communication Programs is pleased to offer a workshop and peer support for aspiring journalists and reporters from print and broadcast media on "Rights-based Health Reporting."
The workshop aims at capacity strengthening of journalists and reporters by introducing them to the human rights approach to health journalism and sharpening their skills in story-based reportage, the art of constructing human-interest stories and developing case studies. The workshop will include sessions on Human Rights Approach to Journalism and technical production skills to develop more engaging story-based journalism by using examples from reproductive, maternal, newborn, and child health as well as nutrition. This assignation will vitalise and develop the capacity of the journalists' on alternate modes of reporting on health and wellbeing issues for promoting health as a 'right', creating demand for services and influencing policymaking.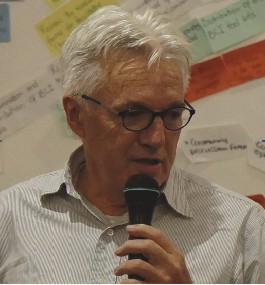 Peter Roberts-Course Facilitator
Peter Roberts is a health communication specialist with over 25 years of international experience of working with media professionals. He has been with the Johns Hopkins Center for Communication Programs since 1994, specializing in behavioural and rights-based communication in maternal and child health, HIV and AIDS, family planning and reproductive health, and in developing innovative radio and mass media programming. Mr. Roberts grew up in Africa, UK, and Canada, attended film school in London, UK, and has worked in all forms media to develop and produce educational materials, including over 50 films and 400 radio programs for the National Film Board, the Canadian Broadcasting Corporation (CBC), and other clients. He documented the final stages of the Global Smallpox Eradication Program for the WHO in Bangladesh (1975) (becoming a proud member of the Order of the Bifurcated Needle) and spent two years as the Communication Advisor on a CIDA-funded health and environment education project in Ghana (1990-92).
Mr. Roberts pioneered the approach to radio programming—of broadcasting weekly day-in-the-life diaries of people living with HIV/AIDS. He has also helped develop and write National Communication Strategies for HIV and AIDS for Nigeria and Sierra Leone. Mr. Roberts is considered an innovator in communication, a master trainer, and a strong network builder, emphasizing broad-based partnerships, local ownership, and sustainability.
Learning Objectives
By the end of the workshop, participants will have:
1. Understanding of human rights approach and how it connects to journalism
2. Skills to apply components of human rights journalism
3. Basic understanding of the key issues for maternal, newborn and child health and nutrition
4. Ability to differentiate story-based journalism from other genres
5. Ability to apply story-based journalism to issues of health and wellbeing
6. Necessary command over strategically formulating media contents pertinent to health; and
7. Skills for using a range of metaphors and analogically driven reporting contents for broad-based sustained impact.
Application and Admission to Workshop
Admission to workshop is free but strictly on merit. An admission committee will evaluate candidates on the basis of their current responsibilities and future potential to contribute in the field of health journalism and reporting. A total of 20-25 participants will be selected, successful candidates will be informed accordingly. The workshop requires full-time commitment from all participants and those unable to attend the full course may not apply.
The medium of communication for this workshop is English and requires candidates to have working proficiency in English language
Working journalists and reporters are requested to either email their application package to workshop@ccp-pakistan.org.pk or post at P.O. Box 1424, Islamabad.
Application package should include:
1. A completed application form that includes endorsement from supervisor/editor
2. Most recent resume
3. One original journalistic work, either a print article or television/radio piece (preferably shorter than 2-3 minutes)
Application form is available for downloading at
www.ccp-pakistan.org.pk/health_reporting
Important Dates
Application Deadline: March 13, 2015
Workshop Duration: 4 days
Workshop Expected Dates:
April 13 – 16, 2015
Peer Review and Support
Workshop graduates are offered platform and support mechanism to come together to share experiences, critique each other's work, identify and try to resolve challenges, strengthen their networks, possibly plan for coordinated campaigns, and brainstorm around more ways of addressing health issues (in their respective regions and future engagement for sharing learning with their peers.
Certification
Successful candidates that have fully participated in the workshop will receive a certificate from Johns Hopkins Center for Communication Programs and Center for Communication Programs Pakistan.
Center for Communication Programs Pakistan
Center's mission is to save lives, ensure basic human rights and improve overall wellbeing through social and behavior change communication, advocacy and community mobilization. Its efforts aim at making an impact on the lives of Pakistan's disenfranchised, disadvantaged and most vulnerable populations. Center's tools include strategic communication interventions, scripted dialogue, initiatives for collective action and individual behavior, and advocacy campaigns that are culturally appropriate and sensitive to local customs. Center also compiles and shares information to better meet societal challenges. Research and evaluation is central to Center's mission as well as training communication experts in public, private and not-for-profit sectors the national, regional and community level.
This workshop is made possible with the support of GRM-Futures Group under the project Empowerment, Voice and Accountability for Better Health and Nutrition. The consortium led by Futures Group with Center as one of its partners responsible for strategic social and behavior change communication are implementing the project. The project is aimed at increasing demand for better reproductive, maternal, newborn and child health services and nutrition, and empowering citizens to hold service providers accountable, across the provinces of Punjab and Khyber Pakhtunkhwa.