Keeping in view the enormous potential of the film 'Bol' (2011) to both educate and inspire action, Center for Communication Programs Pakistan (CCPP), together with Johns Hopkins Center for Communication Programs (CCP), are implementing a range of activities to reintroduce this blockbuster film to young people in Pakistan. This 'reinvigoration' is aimed at initiating discussions on the role youth and media can play in raising voices for social issues and foster change.
As part of reinvigorating the groundbreaking entertainment-education film Bol CCPP has developed a 'Bol Screening Toolkit'. The toolkit allows people to create screening events of the film Bol, and spark dialogue and action for reproductive health and gender equality in Pakistan. The toolkit offers step-by-step guidelines on how to organize a call-to-action screening of the film. A typical call-to-action screening of the film features a screening session, following by plenary and open discussion sessions. The toolkit is meant for anyone and everyone who wants to watch, speak and act for family planning and gender equality in Pakistan.
Toolkit can be downloaded from 'Bol' microsite:
http://ccp-pakistan.org.pk/bol/
CCPP has also produced 200 printed copies of the Screening Toolkit, which will be shared with educational institutions across Pakistan to aid screening of the film. The developed Toolkit is also being used for screenings of film 'Bol' by CCPP in higher-education academic institutions of Pakistan. In the month of November 2017, five events have been held and two are planned in the next month (see table below).
Screening of Film Bol in Higher-education Institutions of Pakistan
Serial
Institution
City
Date
Participants
1
Kinnaird College for Women
Lahore
November 2, 2017
80
2
Fatimah Jinnah Women's University
Rawalpindi
November 6, 2017
115
3
SZABIST
Islamabad
November 13, 2017
40
4
SZABIST
Karachi
November 14, 2017
35
5
Habib University
Karachi
November 15, 2017
45
6
IQRA
Islamabad
December 5, 2017
110

Center, on November 2 and November 6, held events titled 'Dialogue on the Film Bol' in Kinnaird College for Women in Lahore and Fatimah Jinnah Women's University in Rawalpindi. The film's Executive Producer and CCP's Senior Regional Technical Advisor- Fayyaz Ahmed Khan – introduced the concept behind Bol to a large gathering of students and key faculty members at these institutes. The discussion highlighted issues of women's rights in Pakistan including health and social injustice and the careful inclusion of these themes into the scripting of the mega hit. This unique opportunity allowed the students to witness the film like never before and a lively discussion on gender inequality between the presenter and participants. These two events were followed with consecutive events on November 13 and November 14 in Islamabad and Karachi campuses of SZABIST where the discussion also touched upon a range of issues ranging from patriarchy and male domination to harmful cultural practices and subjugation of women in Pakistan. On November 15, Habib University in Karachi hosted another one of Bol events and highlighted the importance of entertainment-education for social change using the film as a case study. In continuation of this series, the most recent event was held on December 5 at IQRA University, Islamabad campus.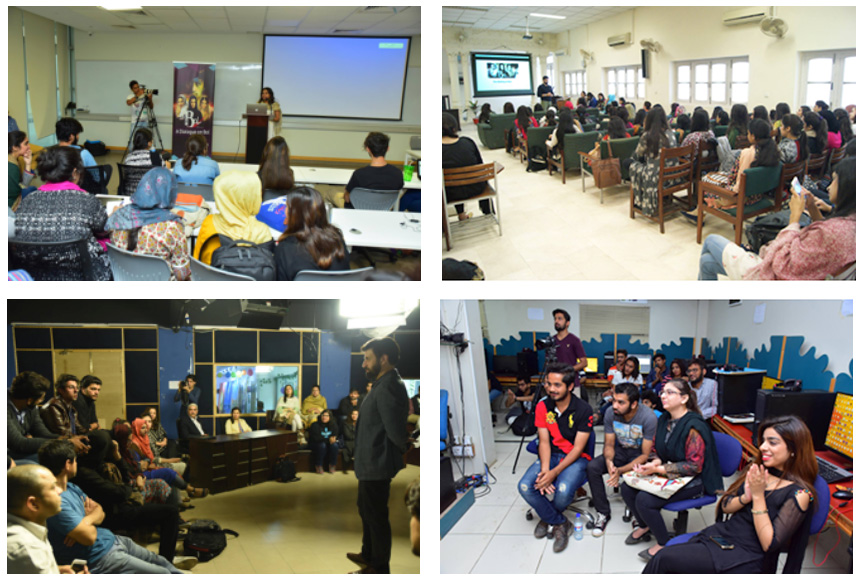 In addition, a social media campaign is also launched to promote the film on CCPPs Facebook page. So far, the campaign consists of a digital banner, two cards and five event posts. A detailed plan is prepared to steadily increase momentum of the Campaign, which will include Facebook competitions to generate discussion on the issues raised in the film, as well as animated GIFs and Quotations. The social media campaign is supported with production of 500 DVD packs of film 'Bol' which will be distributed among engaging audiences on the Facebook page as well as for distribution among students of participating universities. A documentary on this initiative is also planned.
In view of the recently released results 2017 Census, watching 'Bol' is more relevant than ever before. As Pakistan's first and only entertainment-education feature film, Bol is a call to action over two causes that lie at the heart of Pakistan's future: family planning and gender equality. A country of 207,774,520 people, family planning promises to mitigate the impact of population dynamics on Pakistan's economy, natural resources and state stability. Similarly, better gender equality will ensure more women in Pakistan have fair opportunities for education, employment and full participation in society.
---
Bol was developed by Johns Hopkins University Center for Communication Programs (CCP) and JSI Research & Training Institute, Inc. as part of United States Agency for International Development (USAID)-funded Pakistan Initiative for Mothers and Newborns (PAIMAN) in 2011.