A press conference and special meet and greet session with the star cast and producers of drama serial 'Mujhay Jeenay Dou' on September 7th at Pearl Continental Karachi. The drama stars Hania Amir and Gohar Rasheed as the lead pair and also features the comeback of one of television's most revered actress, Nadia Jamil, who is playing the role of a Lady Health Worker in the serial. The actor turned director, Mr. Sarmad Sultan Khosat also plays an interesting role to give the story a compelling twist.
Directed by Angeline Malik and co produced by Center for Communication Programs Pakistan under its project Empowerment Voice and Accountability for Better Health and Nutrition this serial will raises multiple social ills of our society, primarily child marriage. The drama also highlights the heroic role that a LHW plays in the health system of Pakistan. Multiple issues related to maternal and newborn health will be highlighted for educating people on necessary actions that have to be taken by the society at large for bringing a positive change.
"I have always been an advocate of women empowerment, and I feel fortunate to be a part of this drama as both director and producer. I strongly believe that awareness of such social issues needs to be highlighted through the TV medium," stated Angeline Malik.
"Entertainment Education is a powerful tool to raise awareness about such issues in our society and brings multiple stakeholders on the same page," said Atif Ikram Butt, Executive Director Center for Communications Programs Pakistan.
Nina Kashif, General Manager Marketing at Urdu1, stated, "There is a strong need to address these social evils that are still present in many societies of this country especially in rural areas. I hope the drama serial message helps in improving the mind-sets of certain communities especially the ones with limited exposure to the outside world."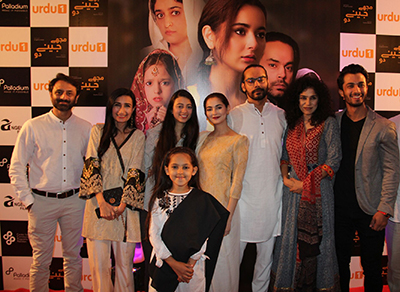 The press conference gave audiences an insight into the drama and provided the star cast with an opportunity to share their views on the existing dilemmas prevalent in our society around maternal health , early child marriage and women rights. Set to go on air this September on URDU 1, Mujhay Jeenay Dou is a story on Saira's (Hina Amir) challenging life journey from an eight-year-old child to an adult in an environment dominated by taboos and social barriers.
Mujhay Jeenay Dou, is a 22-episode serial aired on 11th September 2017 at 8pm on URDU 1.