Center coordinated a consultative meeting on 28 September at the Federal Cell of the Expanded Programme Immunization (EPI) with Government Counterparts at the federal and provincial level who are working on Immunization in Pakistan. The meeting introduced participants to a global toolkit on Interpersonal Communication for Immunization being developed by UNICEF HQ. Chaired by the Federal EPI Cell, the National Program Manager, Deputy Director for Training and provincial EPI representatives from Sindh, Baluchistan, Khyber Pakhtunkhwa and Punjab provinces provided critical input on practical aspects of interpersonal communication skills of frontline workers in Pakistan.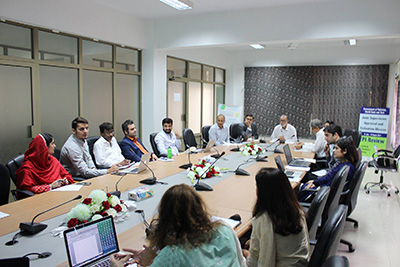 The officials agreed that there is a need to focus on interpersonal communication skills of the frontline workers as informed immunization workers with a good attitude and behavior skills can better address the barriers to immunization uptake.
They also shared key insights with respect to training and supportive supervision of frontline workers. Their feedback and varied experiences in this regard were garnered and will inform the development of the global toolkit, which is spearheaded by Center's parent organization Johns Hopkins Center for Communication Programs for UNICEF Headquarters. Center is providing assistance in research and design activities in Pakistan.