April 20 – May 1 2015, Islamabad Pakistan
An intensive learning opportunity for aspiring screen and scriptwriters in Pakistan

Introduction
Center for communication Programs Pakistan, in collaboration with Johns Hopkins Center for Communication Programs, is pleased to announce an innovative Scriptwriters' initiative that entails a two-week long workshop for treatment of concepts, post-workshop coaching for scriptwriting and seed funding for media product development for aspiring writers from all across Pakistan.
This initiative aims at capacity strengthening on the concept and strategy of Entertainment Education. Every participant of this initiative is expected to go through a refinement process of their concepts getting treatment on the lines of entertainment education and transferring their concepts into full-fledged scripts. Participants will be linked with potential producers, television channels and production houses and supported for their projects through seed funding for production and broadcast on major national and regional television channels.
Course Facilitators
Andrew Whaley has written a dozen stage plays and numerous screenplays. Since 2001 he has developed and mentored hundreds of episodes of radio and television drama throughout Africa.He is one of the leading playwrights in contemporary Africa. His plays have won major awards and include Chef's Breakfast, The Nyoka Tree, Platform 5, and The Rise and Shine of Comrade Fiasco. His play, 'The Rise and Shine of Comrade Fiasco', was published in the first Methuen Anthology of Contemporary African Theatre. He has also written a memoir of South African pop legend, Brenda Fassie. The BBC broadcast Andrew Whaley's plays, Great Escape and Banished: Mugabe of Zimbabwe. Whaley also directed There Is No Canaan On Earth for BBC Spice Taxi.He also writes poetry and has worked on more than 40 feature films as a casting director in the 80s and 90s. He was producer of an African football documentary, Black Stars: An African Odyssey for Channel 4, UK; and researcher on Apartheid's Assassins, winner of New York Film and Television Festival documentary award. He co-wrote short film, Chumo, audience prize winner at the Zanzibar Film Festival, and the feature film, Network, produced for the East Africa's Swahiliwood industry.In the past two years he has written two seasons of the hugely popular East African television drama,Siri ya Mtungi,nominated for the M-Net TV Africa awards in 2014. He has mentored Ugandan writers for the last 10 years on the highly popular radio soap, Rock Point. He now lives in South Africa where he has recently co-produced a documentary film, Black Star, about African football, for Channel 4 UK; and continues to seek a niche as a sport-and-politics filmmaker through his company, 3play.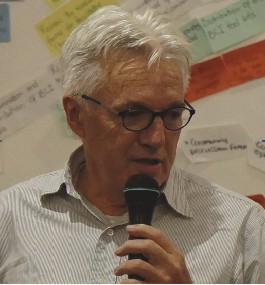 Peter Roberts is a health communication specialist with over 25 years of international experience of working with media professionals. He has been with the Johns Hopkins Center for Communication Programs since 1994, specializing in behavioural and rights-based communication in maternal and child health, HIV and AIDS, family planning and reproductive health, and in developing innovative radio and mass media programming. Mr. Roberts grew up in Africa, UK, and Canada, attended film school in London, UK, and has worked in all forms media to develop and produce educational materials, including over 50 films and 400 radio programs for the National Film Board, the Canadian Broadcasting Corporation (CBC), and other clients. Mr. Roberts is considered an innovator in communication, a master trainer, and a strong network builder, emphasizing broad-based partnerships, local ownership, and sustainability.
Expected Outcomes
By the end of this initiative, there will be:
A next generation of scriptwriters equipped with necessary skills for applying entertainment-education strategy;
A visible change in contents and quality of television dramas carrying educational themes for greater impact and social transformation; and
A growing appetite among Pakistan's film and television industry for socially inspired media products.
Application for Workshop and Seed Funding
Participation in workshop is fully funded but strictly on merit while provision of seed-funds depends on commercial viability of the application. Applicants may please send their individual concepts, through their respective production houses, television channels or as freelance, for any genre of television drama, addressing one or more of the selected themes on health and nutrition described in the next sect