"Back in the day when JHU asked me to write a script on family planning, I thought it was an impossible task…" said Haseena Moin about her popular drama series, 'Aahat', jointly produced by Johns Hopkins Center for Communication Programs and PTV in 1991. The renowned Pakistani scriptwriter was delivering a lecture to the students of Entertainment-Education at Fatimah Jinnah Women University, Rawalpindi.
Asghar Nadeem, a senior Pakistani scriptwriter was also invited to address the students taking the course on Entertainment-Education at Habib University, Karachi. His dramas generally depict injustices and inequalities in the society and he took this opportunity to talk about the importance of including these social messages in storytelling.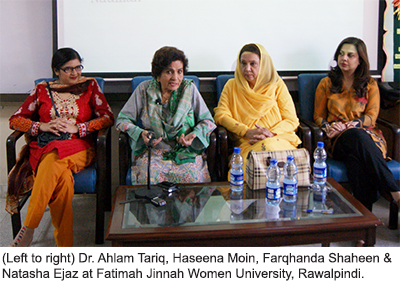 The two lectures were organized by Center for Communication Programs Pakistan, as part of its broader initiative on promoting the art and strategy of Entertainment-Education. This exercise aimed to continue supporting the eight participatory higher-education academic institutions across Pakistan in inducting the Entertainment-Education curriculum developed by Center, earlier this year.
Haseena Moin specifically talked about handling of difficult and taboo subjects, especially in a conservative society. She stressed on developing "positive" characters in the story in order to promote tolerant attitudes and used her light-hearted writing style as an example of inclusiveness that both entertains and educates. In comparison to the 80's and 90's, Haseena lamented that the majority of contemporary writers and directors are more focused on glamour and often far removed from reality. She added that, "The scriptwriter, director and actors need to work in harmony, in order to make a successful play".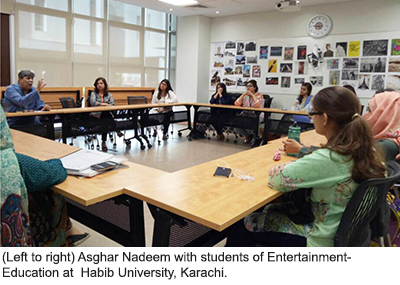 The talk at Habib also encompassed the importance of bringing up social issues by a way of dropping subliminal messages into the story. Asghar Nadeem emphasized on being aware of one's surroundings, "The experiences of the writer as an observer is pivotal to capture the essence of any story". He also talked about the importance of "research" into the fiction and cultural and political history of the area where the writer has situated the story. In reference to entertainment-education, he used the example of a drama film, 'Monsoon Wedding' where the message is modeled on a carefully selected platform while reflecting everyday life predicaments and activities to help the audience to relate to the message being portrayed.
Overall, the talks were well received and appreciated by the students and faculty members alike. Center plans to continue the guest lectures by senior scriptwriters and other media personalities as Entertainment-Education course is offered next semester, at the participatory universities.