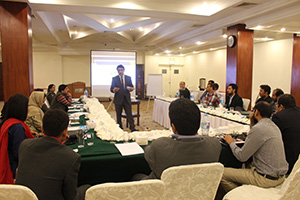 The Center for Communication Programs Pakistan organized a one-day consultative session with journalists on child marriage and the role of media under the umbrella of project titled, 'Promoting Legislation, Prompting Action to End Child Marriage in Pakistan' funded by AmplifyChange. The project aims to create an enabling environment for policy makers to push for legislative amendments. The project also purports to engage journalists to create demand and religious leaders to produce a counter narrative to the prevailing religious discourse around child marriage.
The consultative session with 20 journalists from across Pakistan was modeled to create discussion on the role media can play in prompting action that prompts legislative amendments to prevent child marriages and to push for stronger implementation especially with reference to the newly amended legislation in Sindh & Punjab. The consultation also aimed at equipping the journalists with evidence based synthesized information around demographics, definitions, causes, consequences and legislation on child marriage in Pakistan including the cost of child marriage.
Shagufta Hameed Bhatti, Program Director, Center for Communication Programs Pakistan, initiated an interactive discussion with the journalists, starting with definition of child followed by defining child marriage and its demography. The dialogue created a healthy discourse and pointed towards our own traditional definitions of what and who we consider a child.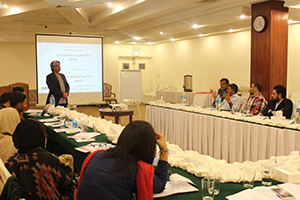 One journalist from Punjab shared that journalists can play a very important role in bring the stories to the limelight, however in his experience of South Punjab, definition or age of a child is not considered important in far flung areas like Dera Ghazi Khan. They have their own tribal systems and marry girls according to those customs which is at puberty. He further shared that the challenge is exasperated as in tribal areas marriages are not registered through a 'nikah Khwan' but 'sharai marriages are the norm'.
Participants shared their experiences as a member of the community and a journalist in terms of what they see around them as causes and consequences of child marriage and stories they have covered specifically with reference to sexual and reproductive health issues. One of the participants from Sindh shared that within her own family, child marriages, not only of girls but also boys are solemnized and these families are well educated and are well to do financially. These practices still persist and poverty and illiteracy are not always the reason for sanctioning marriages.
Another participant from Khyber Pakhtunkhwa shared that within his community/village, the imam masjid tells the parents that holy pilgrimage will not be accepted if your daughters are not married.
A journalist from Islamabad/Rawalpindi shared that the effects of child marriage on health are crippling for a woman. It is emphasized by doctors as well that child bearing before the age of 18 has dire consequences on women's reproductive health and contributes to maternal as well as infant & child mortality as well.
The journalists shared the challenges they faced with reporting on social issues including lack of updated data, access to such stories and then making it through the editors' cut.

Mubashir Zaidi, a senior Journalists elucidated on the need of reporting child marriage, not only with the perspective of its harmful consequences on health but also within the perspective of enforcing responsibility at such a tender age for both boys and girls. He further stated that it is more likely that the editor will accept a story on social issues than on political issues as such stories are sent in by many reporters. He further stated that as journalists it's up to us how we frame the story that sells.
Dr. Atif Ikram Butt, appreciated the participants commitment which was evident by their participation and stated that a child is failed at many stages, first by the family who arranges marriage at an early age, then by the duty bearers (nikah khwan) who solemnizes the marriage, then by the community that endorses the marriage and in the end failed by the state that is unable to enact pertinent legislation and ensure effective implementation. He emphasized that the journalists can play a very positive role in creating the demand for change not only within the masses but also reach out to the policy makers for effective policy implementation.