A meeting of Civil Society Organizations was held at CCPP office Islamabad on September 28, 2017. The purpose of the meeting was to present the aims and objectives of caucus which is formed to make joint efforts for taking forward agenda on issue of child marriage in Pakistan. In this first meeting of caucus, 06 representatives of Islamabad based Civil Society Organizations participated. Following are the details of the participants:
1. Ms Sofia Naveed, Country Gender Specialist, Plan International Pakistan
2. Ms Huma Aziz, Project Manager, Awaz CDS
3. Ms Farah Zafar, Senior Program Officer Training, Sahil
4. Mr Wajahat Hussain, Media Advisor, UGOOD
5. Ms Saima Toor, Project Manager, Bedari
6. Ms Rebecca J. Khattak, Project Manager Education and Gender, VSO Pakistan
7. Mr Atif Ikram Butt, Executive Director, CCPP.
8. Mr Tahir Abbas, Advocacy Specialist, CCPP.
9. Ms Zahra Khalid, Research Associate, CCPP.
Mr Atif Ikram Butt, Executive Director, CCPP formally welcomed the participants and briefly touched upon the work of CCPP and core expertise of the Center. Mr Tahir Abbas from CCPP explained the purpose of the meeting. He also introduced the project titled "Promoting Legislation Promoting Action to End Child Marriage in Pakistan". This one-year advocacy project is supported by AmplifyChange and implemented by Center.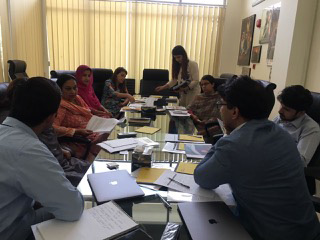 The project has different set of activities focussing on creating supportive discourse on the agenda of child marriage. These activities include setting up resources which covers formative assessment, political economy analysis and advocacy strategy. This project will mobilize networks of journalists and religious leaders to enlist their support and propagate supportive narrative on the issue of child marriage. For taking forward agenda of child marriage to policy makers and decision makers, an advocacy moot is planned through which advocacy material will be disseminated among policy makers. This initiative also aims to engage a few champions parliamentarian and mobilize them to contribute towards having positive policy change on the issue of child marriage.
This project will form a caucus of like-minded civil society organizations that are actively engaged or involved in realization of the rights of women and children, specifically against child marriage. This caucus will be serve as a platform for knowledge management, resources sharing, research, and joint learning from past experiences and best practices with focus on child marriage. It will help in networking among likeminded organizations for promoting legislation and building positive narrative to address the issue of child marriage.
The participants appreciated the work of Center and showed their keen interest in Center's project on child marriage. They also welcomed the idea of forming a caucus of civil society organizations to make joints efforts for policy changes with respect to issue of child marriage. It was also suggested by them that there should be collaboration with exiting advocacy forums to make it a stronger voice on the issue of child marriage. On terms of engagement, all the participants agreed that routine meetings should be held on quarterly basis and if there is any pressing agenda then meeting can be called any time as per need and requirement. All the communication and advocacy material developed by members should be shared through this caucus to learn from each others' work. Another suggestion was that its membership of should not be limited only to civil society organizations but it also includes individual members.